Our engineering teams can define the qualification strategy for your equipment.
Definition of the industrial production diagram
Drafting of the qualification plan
Drafting of inspection specifications
Definition and design of test equipment (monitoring)
Laboratory monitoring of testing
Reports analysis
Drafting of Qualification Synthesis Report (QSR)
Drafting of the RTF
Qualification maintenance
Qualifications include several phases: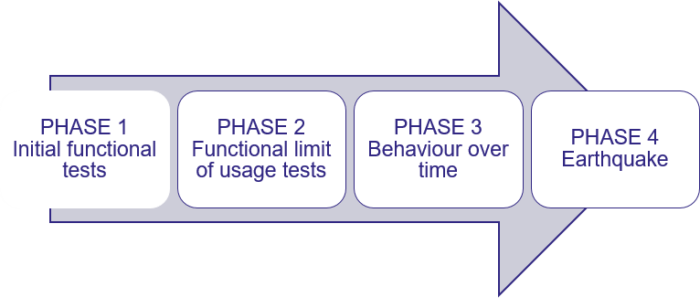 PHASE 1
Initial tests
Visual and mechanical inspections
Inspections of the degrees of protection provided by the housings
Dielectric strength at 50 Hz
Insulation resistance
Dielectric strength
Consumption
Overload and short-circuit withstand capacity
Electrical continuity of mechanical earthing
Functional tests
Functional validation test
Reduced functional characteristics
PHASE 3
Assessment of behaviour over time
Board connection/disconnection
Mechanical vibrations
Rapid temperature fluctuations
Dry heat
Damp heat
Cold
Extended operation
PHASE 2
Functional limit of usage tests
Influence of ambient temperature
Influence of humidity
Influence of the supply voltage
Influence of a dampened oscillating wave
Influence of fast transient bursts
Influence of electromagnetic radiation
Influence of electrostatic discharges
Influence of conducted radio disturbances
Influence of the magnetic field
Influence of high energy voltage surges
PHASE 4
Earthquakes
Bi-axial accelerogram test
We use a network of partner laboratories to conduct these tests with optimum turnaround times.
We conduct half a dozen qualifications every year.